The Housing Not Warehousing Act will add transparency and accountability to vacant public and private property in our neighborhoods. This package of three bills will
create a registry that all individuals and corporations holding their property vacant have to enter or pay penalties for failure to register (Intro 1034)
mandate the City perform an annual count of all vacant property in New York City (Intro 1036)
require the City to compile a list of all city, state, federally, and authority-owned vacant property suitable for the development of affordable* housing (Intro 1039)
*We will still need to work together to make sure this means affordable to the right people, the ones in the neighborhood now.
Here are three things you can do to support it:
1. Ask your Council Member to sponsor it, or thank them if they do! 
More than half of our elected advocates in City Council support the Housing Not Warehousing Act! Find out if yours does with this map. Then look up your Council Member's number here, and use these scripts:
For Council Members that sponsor it:

Hi, my name is ____________ and I am a constituent of Council Member _____. I am calling to thank the Council Member for co-sponsoring the Housing Not Warehousing Act, and to say we're counting on them to vote YES when Intro 1034, 1036, and 1039 come to a vote!
Hi, my name is ____________ and I am a constituent of Council Member _____. I am calling to ask the Council Member to sign on as a co-sponsor of the Housing Not Warehousing Act, a landmark package of bills that will empower the city to finally quantify vacant buildings and lots throughout the five boroughs, and create pathways to transform these properties into housing. Please call [Central Staff?] and add your name to Intros 1034, 1036, and 1039 today!
2. Endorse the Act with your garden group, block association, business club or organization!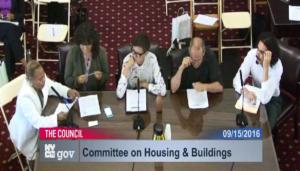 Join 596 Acres in endorsing these bills!  To become an endorser, email jenny@picturethehomeless.org. The more of us that speak out in favor of this Act, the louder our voices! 596 Acres testified in support of it before the New York City Council Committee on Housing and Buildings in September 2016; read our testimonies here.
3. Join Picture the Homeless' Twitter Rally this Thursday, November 16 at 11am! What to share below. Full information with photos to share here.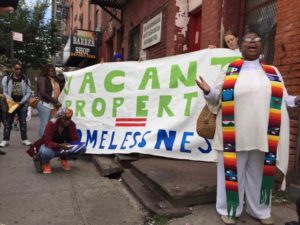 Photo courtesy of Ryan Hickey.
HOUSING NOT WAREHOUSING TWITTER RALLY – MEDIA KIT
TWEET AT: @BilldeBlasio @NYCMayor @NYCHousing @MTorresSpringer
AND BILL SPONSORS: @TishJames @JumaaneWilliams @ydanis
WITH THESE HASHTAGS: #HousingNotWarehousing #NoVacancy #housing #PassHNWAct
AND THESE SAMPLE TWEETS:
Thank you @TishJames, @ydanis & @JumaaneWilliams for committing to pass the #HousingNotWarehousing Act this year!!
"We do not want to see buildings warehoused at all" -@BilldeBlasio
Thank u! now help pass #HousingNotWarehousing! https://youtu.be/QZ2iwJas62k
Thanks @BilldeBlasio @NYCHousing @MTorresSpringer for helping fight vacant property. #HousingNotWarehousing Act  is how we win.
Glad @BilldeBlasio's @NYCHousing will count some vacant property! Now let's #PassHNWAct to count ALL of them: https://www.nbcnewyork.com/investigations/Zombie-Homes-Vacant-Properties-New-York-City-Mortgage-Investigation-454959073.html
"Zombie property" registry a great start, @BilldeBlasio @NYCHousing! But let's count ALL of them. #HousingNotWarehousing #PassHNWAct
We don't know how much vacant property is in NYC. The #HousingNotWarehousing Act would change all that.  https://pubadvocate.nyc.gov/news/articles/pa-james-visits-vacant-property-build-support-housing-not-warehousing-act
Vacancy hurts everyone. That's why NYC needs the #HousingNotWarehousingAct <Insert Vacancy Hurts Everyone graphic>
Why does @ydanis support the #HousingNotWarehousing Act? <Insert Ydanis Rodriguez Quote graphic>
Why does @JumaaneWilliams support the #HousingNotWarehousing Act? <Insert Jumaane Williams Quote graphic>
Why does @TishJames support the #HousingNotWarehousing Act? <Insert Letitia James Quote graphic>
New York City needs HOUSING, not warehousing. Pass the #HousingNotWarehousing Act
With 60k+ in shelter, every vacant building/lot counts. Help us count them. Pass #HousingNotWarehousing Act today.
By mandating that the City inventory our vacant public property holdings, opportunities for residents and communities to partner with the City to steward this public land for public good (i.e. permanently affordable housing, community and cooperative space) will become more visible. This community visioning session will highlight the potential!