This episode of Intern Insights is by summer 2017 community advocacy intern Hannah Foster!
The Windmill Community Garden occupies a 2,500-square-foot lot located between 39th and 40th Streets in Long Island City, Queens. Saturday, June 24th, marked The Windmills Garden's first official event, and an eclectic array of people made it out for the festivities.
The garden has an interesting dynamic. Located on the backside is the charter school Growing Up Green. Across the street is Flux Factory– a non profit art collective, and adjacent to the space is the Dutch Kills Centraal, a staple Long Island restaurant.  The restaurant's founder, Dominic Stiller, was once president of the active Dutch Kills Civic Association. In addition, a women's homeless shelter occupies the other adjacent corner. Dutch Kills Civic Association, Growing Up Green, and Flux Factory all partnered to reclaim this idle government-owned land and transform it into a treasured community space.
From an outsider's perspective, it may seem unlikely that these residents from differing backgrounds and lifestyles would make effective allies– at least not without an outside mediator or authority figure's intervention. However, this small pocket of land provides proof that communities are capable of cooperation and land stewardship on their own. While methodologies and ideologies may clash at times, a love for their community serves as the common thread that made Windmill Garden possible.
While running 596 Acres' Community Land Access Booth at their grand opening event, I was able to interview some key advocates, and discuss the logistics of working with different community members for a common goal. While everyone was kind enough to sit down with me, our talks had to be done in between lathering children with sunscreen, setting up tents, grilling and serving hot dogs, and running the sound for musical performances.
ERIN ACOSTA-
After years of being a parent advocate, Erin now works full-time as the Parent Coordinator at Growing Up Green. Growing Up Green is a charter school that emphasizes environmental awareness and social justice, as well as providing a well rounded education for their students. The K-to-fifth-grade building, which serves about 530 students, sits right behind Windmill Garden, and the middle school, which houses 6th-8th graders, is just shy of a mile away. Now the students enjoy the space and attend gardening workshops. Also, Growing Up Green provides a meeting place for the Dutch Kills Civic Association as well as the unofficial community garden board. Erin works closely with Flux Factory and Dutch Kills Civic Association to tackle the logistics of running a community space.
STEPHEN MORENA-
Steve clearly knows how to get things done. Throughout the grand opening event, Steve appeared wherever help was needed. He saved the 596 Acres tent from flying away, helped set up the grilling station, and aided Green Thumb employees set up their planting workshop (Green Thumb is a branch of the Parks Department that manages the city's community gardens). Although he was hesitant to talk to me initially, and insisted I first interview others whom he claimed were more involved, he did eventually find time to speak with me. It quickly became clear that he handles many of the day-to-day tasks of the garden. While Green Thumb, along with Jetblue and other corporate volunteers, played an instrumental role in the physical creation of the garden, Steve, along with some neighbors, were the first to actually plant seeds in the space. During the first year of the garden's existence, the committee struggled to agree on the most equitable way to proceed as the planting season quickly rushed to a close. Steve figured that in order to keep the project and spirits alive, action must be taken. Lacking complete farming know-how himself, he called up a friend in the neighborhood, and together they planted hundreds of tomato, radish, basil, and cucumber plants.
GEORGE STAMATIADES-
After being directed by Steve, I found George busy grilling in the back of the garden. He too, ironically, initially insisted that I speak to Steve. It took some convincing from his wife, but he agreed to take a break from his grill duties to talk to me. George is the president of the Dutch Kills Civic Association, and, as Erin puts it, the "real MC." "Kill" means "little stream" in Dutch and in 1979, when residents revitalized the group, they chose that name to commemorate Dutch pioneers who settled Long Island Queens by the "kill", a tributary of Newtown Creek. Since the 80s, the Dutch Kills Civic Association strives to promote "service or any other action necessary to maintain the community as a desirable place in which to live and work." George's involvement with this organization dates all the way back to its revitalization in the 80s.  
NAT ROE-
Nat is the director of Flux Factory, which is a non-profit that aids artists through residencies, exhibitions, and organizing networking opportunities. Nat co-founded Silent Barn, a collectively run space in Bushwick, Brooklyn, designed to provide space for people to work, live, and perform (596 Acres was one of Silent Barn's first tenants.) His work with Silent Barn gave him years of organizing and advocacy experience, and he supplies the garden board with technological and organizing support. Nat clearly serves as the point person for anything technical, and we had to pause our interview several times as he set up and tweaked the sound system for the performers in the garden. Nat's expertise also includes fundraising, but Windmill garden did not require any fundraising because Green Thumb helped them apply for grants.  
***
Peeking inside the inner workings of The Windmill Garden is a hopeful sight. There is something so special about community stewarded spaces, especially in a city where land is scarce and rarely affordable. Connect with the garden and get updates by connecting through their facebook page here!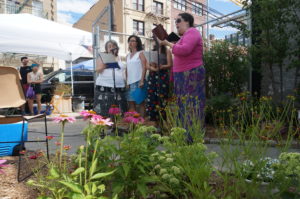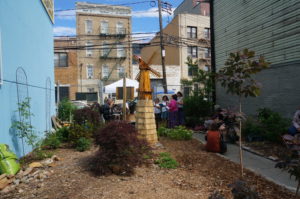 * * *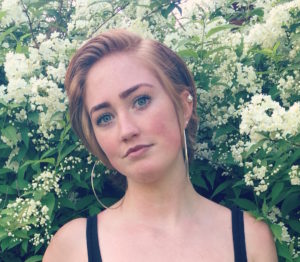 Hannah Foster, from Salt Lake City, Utah, developed a love for the environment that spurred from childhood backpacking trips. Last January, she worked with a non-profit in Costa Rica called Equipo Tora Carey and learned about environmental laws and advocacy work in Costa Rica. Upon her return she was eager to engage in local issues of environmental justice in New York City. This fall she begins her senior year at the City College of New York and will graduate as a Skadden Arps Pre-Law Honors Fellow with hopes of becoming an environmental lawyer.
Intern Insights is a series of blog posts from 596 Acres' 2017 summer interns!