The Department of Parks and Recreation announced on April 4 that it has begun the official process of buying Maple Street Community Garden, 237 Maple Street between Rogers and Nostrand Avenues in Prospect-Lefferts Gardens, Brooklyn! Parks' press release below and here.
The April 4 announcement marks the beginning of the Uniform Land Use Review Procedure (ULURP) for the garden's acquisition. ULURP is a process that NYC uses to make sure elected officials and the public review big land use decisions; the City Charter requires ULURP any time the City wants to acquire property. This procedure includes input from the local community board, borough president, City Planning Commission and City Council, with many opportunities for public input through public hearings and other forums. At the first public hearing on April 19, Brooklyn Community Board (CB) 9's Land Use, Planning and Zoning Committee voted to support the application after listening to over a dozen testimonies from community gardeners and advocates! CB9's Parks Committee had voted to support the proposal ahead of the meeting as well.
Upcoming public hearings are listed below! Join local advocates testifying in support of NYC Parks' proposal to secure this community resource; plug in with maple3garden@gmail.com, or just show up with two or three minutes on why this space serves our city!
The announcement follows a multi-year community land access advocacy campaign supported by 596 Acres which brought together community gardeners, elected advocates and city agencies to create and secure a vital Brooklyn community space. Neighbors organized to transform an abandoned privately-owned lot on their block into a community garden, creating open space to grow food and BBQ under a grand weeping willow. This tree used to stand next to a house, which burned down in 1997, years after its last owner passed away without children to directly inherit it. When gardeners were threatened by eviction from speculators with a dubious deed, 596 Acres connected gardeners to probono legal representation and successfully staved it off, while helping track down legitimate heirs. Acknowledging the importance of this community space, Council Member Matthieu Eugene and Borough President Eric Adams each set aside funding for the land's acquisition.
Parks Department's press release follows. See photos of the garden from last summer here.
UPCOMING PUBLIC HEARINGS
Full Community Board 9 vote: Tuesday, April 25 at 7pm at 400 Empire (corner of Nostrand)
Brooklyn Borough President vote:  Weds, May 3 at 6pm at Borough Hall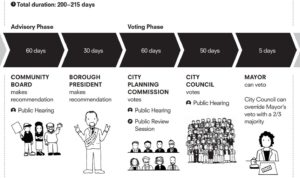 An overview of the ULURP timeline, including public hearings. This process started on April 4, 2017. Thanks to the Center for Urban Pedagogy for the graphics! Full page here.
NYC PARKS TAKES SIGNIFICANT STEP TOWARD MAKING MAPLE STREET COMMUNITY GARDEN WHOLE
Parks Works to Acquire Open Space for Beloved Community Garden in Brooklyn


Tuesday, April 04, 2017

NYC Parks is pleased to announce that the City is one step closer to acquiring Brooklyn's Maple Street Community Garden with the official Uniform Land Use Review Procedure (ULURP) certification now complete. This milestone is a crucial step in getting City approval to acquire the site. Located at 237 Maple Street, the garden is a midblock lot which sits between Rogers and Nostrand avenues, and has served as a passive open space and maintained as community garden by neighborhood residents since 2013. Brooklyn Borough President Eric Adams and City Council Member Mathieu Eugene have allocated $1.25 million toward the acquisition, which would facilitate the continued use of Maple Street Community Garden as a passive open space and community garden. Once the ULURP process concludes, the acquisition could be completed by mid-2018.

"Parks is proud and appreciative of the work of the community garden members who have cared for this treasured open space, and we will continue to work toward keeping it open to the public," said NYC Parks Commissioner Mitchell J. Silver, FAICP. "Maple Street Community Garden is an impressive example of the ways in which communities are empowered to come together to beautify and give back to our shared outdoor spaces. We celebrate the dedicated volunteers and community activists that have made Maple Street Community Garden thrive, and we thank Borough President Adams, Council Member Eugene, and 596 Acres for recognizing the importance of keeping this site intact."

"ULURP certification brings us one step closer to preserving the Maple Street Community Garden for generations of Prospect-Lefferts Gardens to come," said Borough President Adams. "I am excited to continue advancing this project forward alongside garden stakeholders who are helping us make this community a safer place to raise healthy children and families."

"The Maple Street Community Garden serves an important purpose within our district as a place where the public can gather to appreciate the beauty of the neighborhood," said Council Member Eugene. "I want to thank Brooklyn Borough President Eric Adams for partnering with me on this initiative, and my many constituents who have been involved in the process. The members of this garden have made a profound commitment to its preservation, and I am so very appreciative of their efforts. It is my hope that with this land acquisition, we can provide residents with a special green space to gather in for years to come."

"This is an amazing step in the journey! We are so glad to support grassroots, community-led development of this neighborhood and to facilitate partnership with Parks and our elected advocates that will allow the preservation of the Garden for generations to come," said Founding Director of 596 Acres Paula Z. Segal.

"GreenThumb is thrilled at the possibility of welcoming another garden, and gardening group, to the GreenThumb family," said GreenThumb Director Bill LoSasso. "Our volunteer gardeners have been dedicated stewards of blocks throughout New York City for decades, creating and caring for community gardens that provide green spaces, produce food, and bring neighbors together in the shared stewardship of open space. GreenThumb is grateful for the steadfast support of Borough President Adams and Council Member Eugene, and we look forward to working with the gardeners at Maple Street Community Garden to extend the benefits of community gardening to more New Yorkers."

Since 2013, Maple Street Community Garden has been used as a passive open space and community garden by neighborhood residents. Previously, the site had been vacant since the demolition of an unsafe building on site, which was damaged in a fire and demolished by NYC Department of Housing Preservation and Development in 1997. The lot sat vacant between 1997 and 2013, when neighborhood residents raised funds and worked to transform the lot into a community space to grow fresh produce and provide open space by removing debris, building gardening beds, and landscaping the site.

NYC Parks GreenThumb

GreenThumb provides programming and material support to nearly 600 community gardens in New York City. Workshops, which are the access point for supplies, are held every month of the year, covering gardening basics to more advanced farming and community organizing topics. GreenThumb was initiated in response to the city's financial crisis of the 1970s, which resulted in the abandonment of public and private land. The majority of GreenThumb gardens were derelict vacant lots renovated by volunteers. These community gardens, now managed by neighborhood residents, provide important green space, thus improving air quality, bio–diversity, and the well–being of residents. But gardens aren't just pretty spaces; they're also important community resources.

596 Acres

596 Acres champions resident stewardship of land to build more just and equitable cities. 596 Acres builds tools to help neighbors see vacant lots as opportunities and create needed green spaces that become focal points for community organizing and civic engagement. We turned our original online map into a sophisticated interactive organizing tool, Living Lots NYC, which provides information about vacant land across NYC and is supported by signs and other print materials. These materials go hand in hand with our ongoing organizing and advocacy work.

Source: https://www.nycgovparks.org/news/press-releases?id=21450