Last weekend, between splashing around the Sunset Park pool on its opening day and grilling 4th of July hotdogs on a stovetop in my apartment, I got the chance to squeeze in a sunny afternoon of groundtruthing for unused park buildings! 596 Acres is currently in the midst of a project to identify and catalogue unused and misused buildings on New York City parkland with the end goal of sparking advocacy supporting the return of those structures to public use. We are looking at nearly every Parks Department property across all five boroughs. My fellow intern Tim gave an overview of the project in an earlier post. A major component of the project is actually going to parks to physically identify buildings in need of advocacy (groundtruthing!). And so last weekend, to that end, I strapped on my helmet, pumped up my tires, and hit the streets of southwest Brooklyn to check out some buildings at several parks.
Specifically, I hit up Leif Ericsson Park, McKinley Park, Dyker Beach Park, Bensonhurst Park, Calvert Vaux Park, John Paul Jones Park, John J. Carty Park, Shore Park, Owl's Head Park, Six Diamonds Park (AKA the Coney Island Boat Basin), and a few smaller clusters of tennis courts, handball courts, basketball courts, and baseball fields. Nearly all the buildings I surveyed were open for use by the public and most were in decent shape. However, after the first hour of groundtruthing, as I was pedaling to the end of the Shore Parkway bike path*, the part where the trail makes a turn into Bensonhurst Park, I noticed a building that I had passed many times on bike rides prior but had never paid much attention to. The building is a long, low, white painted structure abutting several tennis courts and festooned with the Parks Department green sycamore leaf in several places. The building is very much abandoned and in pretty dismal shape. There are many large holes in the courtside walls with chunks of insulation poking out from a few of them. There is a sign on the front of the building that reads "Match Point NYC Coming Soon" which makes me think the city has, or had, plans to lease the space to a private operator for use as a tennis center.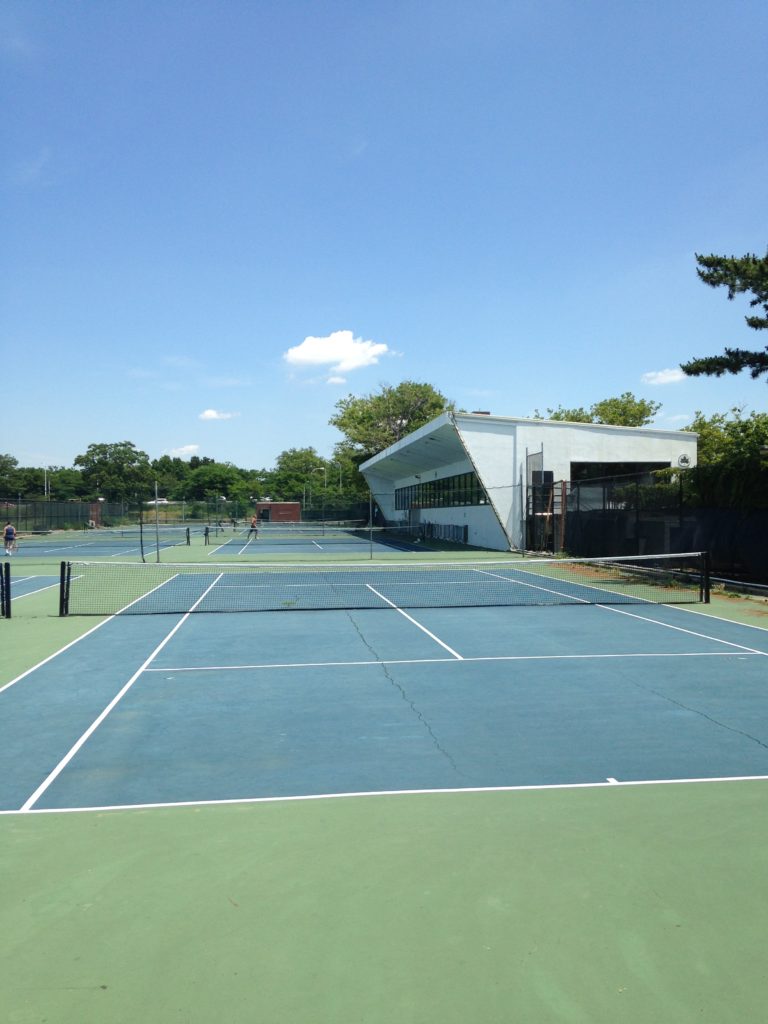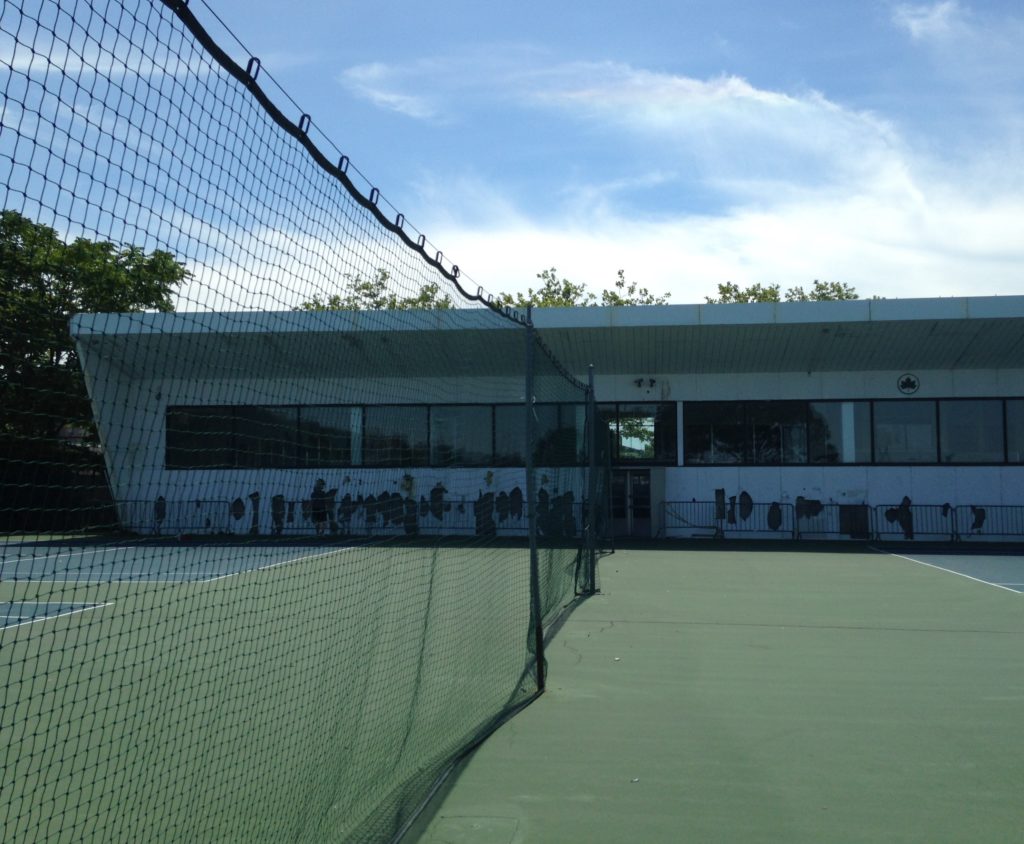 After some digging I was able to ascertain a few facts about the structure. The building was in fact a tennis and racquetball club until 2012 when it was severely damaged by Hurricane Sandy. According to construction permits, it was built in either 1991 or 1992; I couldn't tell exactly when construction was completed. It appears that the structure was operated by a private company called Bridgeview Racquet and Tennis Club and that at least a few people on Yelp were pretty satisfied with its offerings and happy to have such a facility in the area. I didn't find much on the relationship between the private operator and the Parks Department, but according to both the Department of Buildings and the city's MapPLUTO dataset, the building is definitely owned by the Parks Department. The Department of Buildings also shows that in November 2016 an architecture firm applied for a permit to totally reconstruct the interior of the building, but that application was withdrawn this past May. Another permit, which was approved the same month, shows that there are plans to start some plumbing work on the structure. Prior to these two work permits there is no public record of any major improvements to the structure since a sprinkler system was installed in 1994.
After five years of neglect since Sandy, the fate of this building remains unclear. It seems that only within the past few months has anyone taken steps to rehabilitate the building, but at this point it is difficult to gauge how serious these efforts are. It is our goal to create a comprehensive list of structures like this to serve communities so that they may take control over the spaces that are important to them, and in the case of parks, that should already be theirs. It's this kind of activism that can make the difference between a building that remains derelict and dormant and a building that serves the neighborhood as an asset to area residents for years to come.
*If you haven't biked the Shore Parkway bike path you definitely should because it's fantastic! I also learned a cool unrelated fact about it as I was writing this post. As you are on the path just passing underneath the Verazzano Bridge on the south side, you will notice a strange heap of rocks and concrete jutting out from the shore and cordoned off from the bike path by a pretty gnarly looking partially rusted black steel fence. Apparently this heap is called Denyse Wharf and is actually the remnant of an 18th century landing that was the disembarkation point for British and Hessian soldiers during the Battle of Brooklyn in 1776. How apropos of my 4th of July hotdogs!
Help us find our unused park buildings! Instructions here.
* * *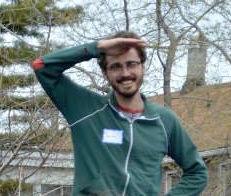 Sam burns for vibrant communities and believes that the best way for such communities to thrive is for neighbors to have control over their own spaces. Before coming to New York in 2015, he lived in Chicago, where he did organizing work for a community garden undergoing a total soil remediation and massive redevelopment project. He also did an AmeriCorps program for a year on the south side of Chicago. During the day, he is an immigration paralegal. He is matriculating at CUNY Law School in the fall.
Intern Insights is a series of blog posts from 596 Acres' 2017 summer interns!