Protect Our Places rally with Public Advocate Letitia James (center) on the steps of New York City Hall, June 22, 2017.
My name is Shannon, and I'm working with 596 Acres this summer as a Community Advocacy intern, helping community groups navigate the often-complex process of claiming and transforming unused city-owned land into green and open spaces. One of my first projects this summer has been contributing to 596 Acres' Protect Our Places campaign, working to keep critical non-profit organizations safe from unfair foreclosure.
In 2012, the City of New York began to require that non-profit organizations – from churches and synagogues to soup kitchens and after-school centers – register with the City on an annual basis to maintain their tax-exempt status. If organizations fail to take this step, the Department of Finance can then assess property, water, and other taxes on the site. Of course, if the non-profit was unaware that they needed to register with the City, they are also unlikely to pay such taxes, which means the property will start to accrue (illegal) debt and be marked as delinquent by the Department. Each year, the City bundles unpaid debt from property owners citywide and sells it as a lien on the property to a third-party investor, who can then foreclose on the property to collect the unpaid debt. It is this nightmare scenario that the Protect Our Places campaign was designed to avoid, through both short-term activism and awareness-raising as well as a long-term legislative fix.
You may be asking yourself, as I did when I first started working on this project: How is it that an organization doesn't know it has to register as a non-profit with the City? It may be hard to believe, but even though it's been five years since the regulation was enacted, many of these organizations do not have the systems in place to ensure such requirements are met, or are unaware that such a requirement exists in the first place. Imagine a church that has operated out of the same building for decades, with a pastor and a few other key staff members serving the community. One staffer is in charge of maintaining the church's finances and legal affairs, and they have to take an unexpected leave of absence. Unless they have created clear and comprehensive documentation of what needs to be done, it's likely that something will fall through the cracks. Given that this regulation is only applicable on a city – not state or federal – level, a non-profit would not necessarily be able to rely on their parent organization to know about this requirement, either.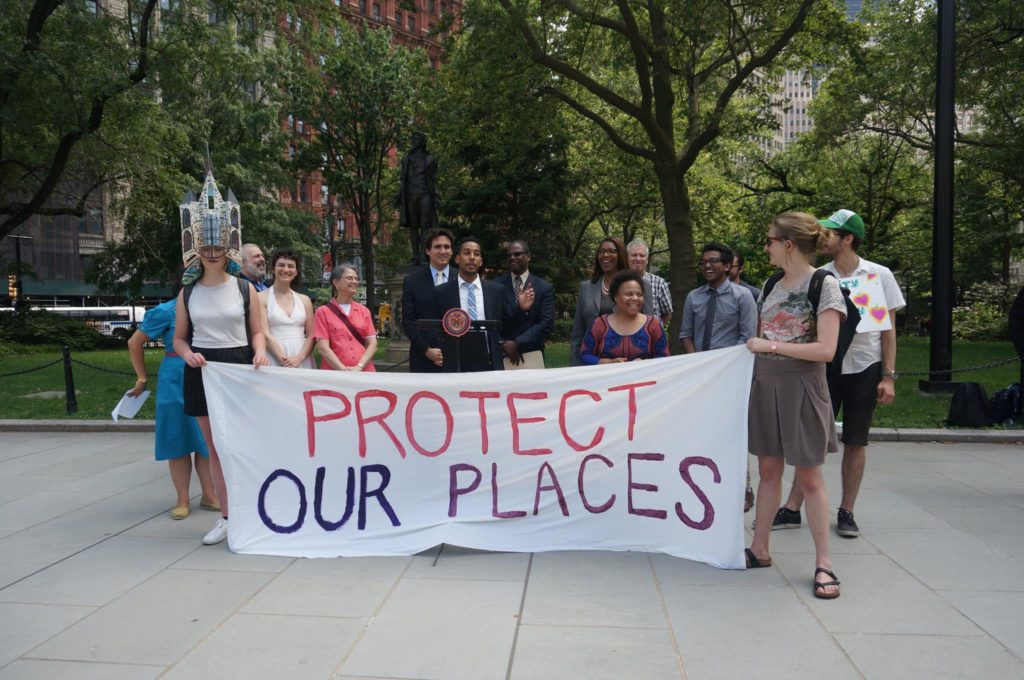 Councilmember Antonio Reynoso (D-Bushwick, Williamsburg) speaks at the Protect Our Places rally, June 22, 2017.
And remember, too, that the non-profit organizations that make our city a more welcoming, caring, and warm place to live are often not up-to-date in terms of communications technology. Indeed, as I went through the city's list of properties that were set to have their debt sold, I found that many organizations did not have a working phone number or email address, let alone a website. 596 Acres' founder Paula Z. Segal tells the story of one non-profit director who realized he needed to register with the City, but did not know how to scan and send the proper documentation via email. (She eventually told him to fax the documents to her office, and she submitted the paperwork on his behalf.) This helps to explain why non-profit organizations remain at risk even though the City sends four notices before selling the debt to a third-party.
So what is 596 Acres, in partnership with the Urban Justice Center's Community Development Project (CDP), doing to address this situation, a potentially perilous one for the many non-profits that call New York home?
Part of what makes New York City a place millions of people love to call home are the organizations that provide places for people to gather as neighbors and form communities. The government should be helping organizations continue this vital work, not enacting convoluted bureaucratic processes that could result in permanent, devastating losses. While the official deadline for the 2017 tax lien sale has passed, the sale itself isn't taking place until August, so there's still hope: 596 Acres and the CDP are working to not only get the 176 non-profits still on the list removed, but to erase the illegally-accrued debt that is "owed" by these groups. Going forward, Protect Our Places will continue to work to ensure the City prioritizes the preservation of these organizations so our communities can continue to thrive.
If you feel called to help, reach out to your city councilmember and tell them to support Bill Int. No. 1656!
And if there's a vacant lot in your life that you'd like to see turned into community-stewarded green and open space, visit livinglotsnyc.org to learn about its status.
* * *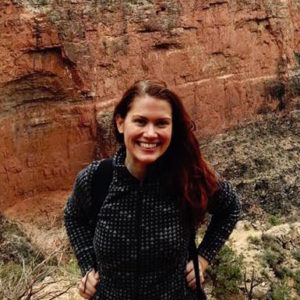 Shannon is a Masters of Environmental Management candidate at the Yale School of Forestry and Environmental Studies, where she is focusing on urban sustainability and environmental justice. In her former life, she was a lobbyist for Honda North America, working with the federal team in Washington, DC, on issues ranging from workforce development and connected cars to chemicals and safety recalls.
Intern Insights is a series of blog posts from 596 Acres' 2017 summer interns!