Just this morning, sixteen New York City Council Members sent NYC's Department of Finance Commissioner Jacques Jiha a letter calling for recently tax-exempt charity properties and vacant lots to be excluded from its 2017 tax lien sale. Today is the last day property owners can pay debt or enter in payment agreements to be removed from the sale, according to the Department of Finance website.
Created in 1996 under Rudy Giuliani, the tax lien sale takes tax, water and sewer debt owned to the city and converts it into liens which it then sells to a designated private trust managed by the Bank of New York Mellon. The trust can collect 18 percent interest compounded daily, pursue collection, and initiate foreclosure which leads to auction of property to the highest bidder. Buyers can do whatever they want to the properties, including demolish the hundreds of old churches and other community institutions, many active, poised to be included in this year sale. The sale also leads to the continued warehousing of vacant land.
Council Member Ben Kallos' office coordinated the letter. Its signatories are Ben Kallos, Antonio Reynoso, Stephen Levin, Debi Rose, Corey Johnson, Rafael L Espinal, Laurie Cumbo, Mark Treyger, Chaim Deutsch, Robert E. Cornegy Jr., Carlos Menchaca, Dan Garodnick, Rosie Mendez, Ritchie Torres, Margaret Chin and Bill Perkins.
Here is the letter they sent (PDF here):
May 12, 2017

Jacques Jiha
Commissioner
Department of Finance
One Centre Street 22nd Floor
New York, NY 10007

RE: Imminent Tax Lien Sale

Dear Commissioner Jiha,

On May 12, 2017, the City of New York is poised to give private speculative investors leverage over hundreds of properties in all five boroughs via the Department of Finance (DOF) Tax Lien Sale. By selling the right to collect unpaid taxes on community gardens, churches, day care centers, and locations owned by community-based charity organizations, the City is putting these hundreds of key community places at risk of foreclosure by private debt collectors and risking their transformation into private, for-profit development sites.

By selling that right for vacant lots in the same transaction, the City gives up its power over the future of our neighborhoods and transforms unpaid property taxes into a "private" debt to be enforced by private debt collectors.

For the first time ever, in response to the requests of advocates, this year the DOF created lists of recently-exempt properties and vacant land heading to the May 12 sale. We urge you to remove all recently-exempt properties DOF identified from this sale. Charity properties are entitled to be free from paying property tax under the New York State Constitution; including them in the lien sale puts them at risk of closing their doors and being sold to speculators.

We also urge you to remove all vacant land DOF identified from this upcoming sale. Allowing private debt to compound the pains of neighborhoods that have been abandoned by absentee property owners will not lead to responsible development of gardens, community centers, and housing. The City retaining leverage over these properties is vital for our communities.

Thank you for your attention to this pressing matter.

Sincerely,

Council Member Ben Kallos, 3rd District
Council Member Antonio Reynoso, 34th District
Council Member Stephen Levin, 33rd District
Council Member Deborah Rose, 49th District
Council Member Corey Johnson, 3rd District
Council Member Rafael Espinal, 37th District
Council Member Laurie Cumbo, 35th District
Council Member Mark Treyger, 47th District
Council Member Chaim Deutsch, 48th District
Council Member Robert Cornegy, 36th District
Council Member Carlos Menchaca, 38th District
Council Member Daniel Garodnick, 4th District
Council Member Margaret Chin, 1st District
Council Member Rosie Mendez, 2nd District
Council Member Ritchie Torres, 15th District
Council Member Bill Perkins, 9th District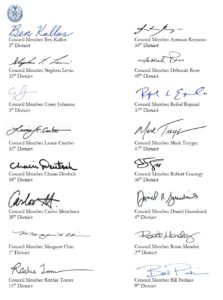 By exempting community properties from entering the sale, the Department of Finance could protect over 340 community places like houses of worship, community centers, and other tax-exempt nonprofit properties from private speculators who can charge high interest on debt that never should have been owed (nonprofits are tax exempt by NYS law), pursue collection, and initiate foreclosure leading to sale to the highest bidder.
Exempting vacant lots would allow the city to keep leverage over 1,155 vacant lots that blight our neighborhoods. Abandoned by their private owners, these lots add to the difficultly of life for those who live near them. Passing their fate to outside investors who have no incentive to transform them will lead to their ongoing warehousing and neglect.
For more information, visit http://596acres.org/protecting-our-places/.
Press contact: Mara Kravitz, Director of Partnerships at 596 Acres: mara@596acres.org, (718) 316-6092 X 3.