596 Acres teamed up with Booklyn to publish a small-edition box set that brings together our first five years of print materials! Each 596 Acres Box Set contains 2 artists' books, 3 fine art prints, and a generous sampling of ephemera and flyers from past projects (a total of at least 20 items in each variant box). The box also contains a USB drive of digital materials and a descriptive broadside designed by Will Brady.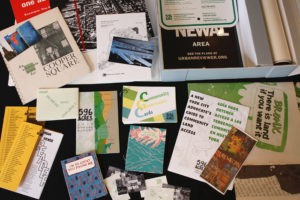 This set presents the books and printed ephemera produced by 596 Acres to a new audience of institutions, students, and curators. From signs that point out opportunities to transform vacant public land, to advocate's guides and community governance cards, to books that capture campaign stories, maps, art, histories and more, each print material is a part of the infrastructure that helped regular people across New York City get together with their neighbors to create 40 new community spaces where vacant lots used to be. The set can even be seen as a "tool kit" for community organizing.
The 596 Acres Box Set is available for purchase! Join Columbia University and Pratt Institute in adding them to your collections. Learn more and browse what's inside the box at Booklyn.