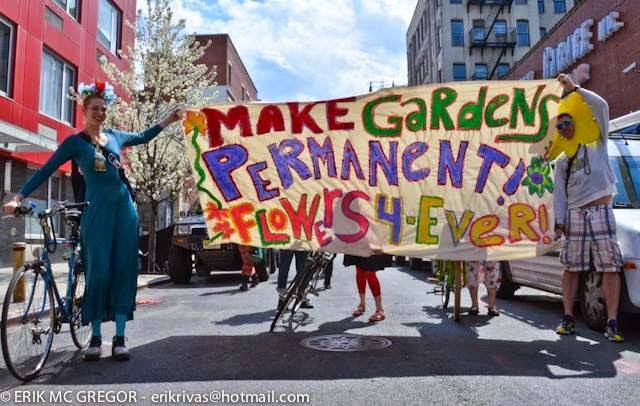 Saturday, April 30
from
noon
to
7 p.m.
Endangered community space bike ride with 596 Acres and Public Space Party on Saturday April 30, 2016 (rescheduled due to rain)!
Here are this year's details, and a map:
https://www.google.com/maps/d/u/0/viewer?mid=zc7ee2wmhGWM.krBazzHEwcIc
Stop One: 12pm
Elizabeth Street Garden
Elizabeth Street between Prince and Spring, Manhattan
Stop Two: 12:45pm
Children's Magical Garden
129 Stanton St, Manhattan
Stop Three: 2pm
Roger That Garden
Rogers Avenue and Park Place, Brooklyn
Stop Four: 2:45pm
Maple Street Community Garden
237 Maple Street, Brooklyn
Stop Five: 3:45pm
Imani Community Garden
87 Schenectady Ave, Brooklyn
Here are photos from 2015 so you can dream about the 2016 ride: https://www.facebook.com/media/set/?set=a.800720853297682.1073741854.212988388737601&type=3
Last year, we visited Maple Street Community Garden, Roger That! Garden, Eldert Street Garden, Siempre Verde Garden, Children's Magical Garden and Elizabeth Street Garden. Siempre Verde garden has since been transferred to the NYC Parks Department for permanent preservation as a community garden (yay!). The others we visited last year remain open and remain threatened. Onwards!