People Working Our Land Together
A Celebration of our Neighborhood Bounties
Saturday, October 6 from 6 p.m. to 10 p.m.
At Sun In Bloom, 460 Bergen Street, Brooklyn, NY 11217
Food for [Happy] Thought
460 Bergen Street, Brooklyn
WE RAISED $5,378.46! 
THANK YOU SO MUCH TO EVERYONE WHO CELEBRATED WITH US, TO ALL OUR VOLUNTEERS WHO MADE THE EVENT HAPPEN, AND TO ALL OUR FRIENDS WHO DONATED:
You can see more pictures here!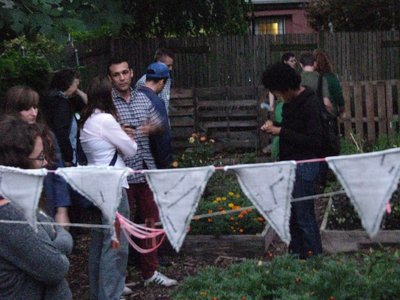 Invitation Logo Design by raven + crow studio
Special thanks to our Host Committee:
Helen Ho : Mark Taylor : Leah Feder : Nancy Romer : Mara Gittelman : Todd Lester : Frank Deale
And the volunteers who ran the event:
Wendy Brawer, Linda Cohen, Lauren Willis, Rebecca Williams, Hira Lesea, Gregory Earls, Chad Berkowitz, Danielle Hlatky, Timothy Mcandrew, Mara Gittelman, Mary Elizabeth Prall….and all the other folks who did stuff at the end of the night for us.
THANK YOU!